Moving Storage Containers
One of the many benefits of trusting ALTA MOVING with your moving needs is that we offer secure storage solutions through our ALTA STORAGE division.
Edmonton's First Choice For Secure Storage Services
ALTA STORAGE has multiple traditional self storage locations, a AAA pod style portable storage division, as well as a secure warehouse. While other moving companies offer storage in Edmonton, many of them are simply renting space from third-party storage facilities. By bundling your moving and storage services with us, everything stays in our system to ensure you're getting the best deal and unmatched customer care every step of the way.
Request a Quote Now to Receive Your 25 Free Frogbox Rental
In addition to our traditional self-storage facilities, we also offer portable storage units in Edmonton that are designed for loading, transporting and securely storing items with ease. These portable storage units are especially useful when your possession date doesn't align with your move-in date, which usually puts your belongings in limbo. Keep your items safe from theft and vandalism in our self-storage containers until moving day and settle into your new place with peace of mind!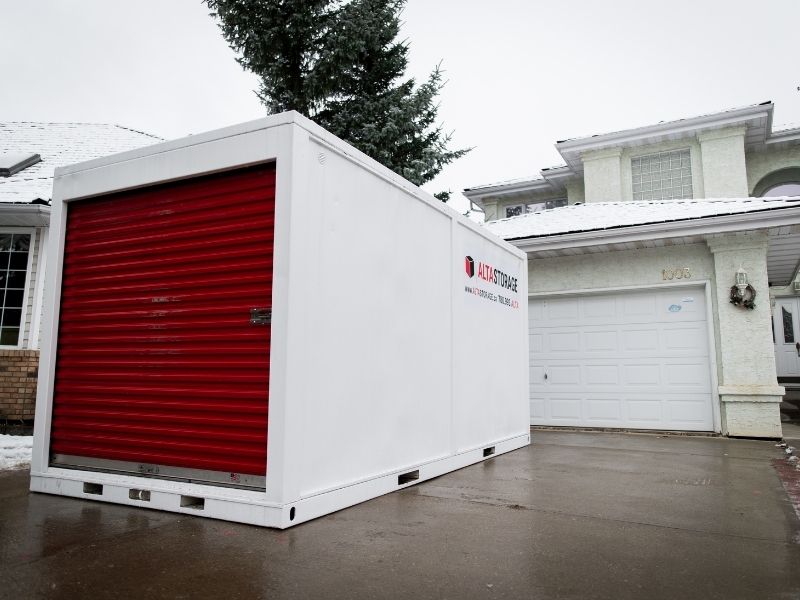 The Latest In Portable Storage Solutions
Take your time filling your portable storage container while it sits on your driveway instead of everything being rushed on moving day. ALTA MOVING can also provide you with professional movers to assist you with loading large items and furniture into your storage container.
Traditional Self-Storage
Portable Storage Units
Temporary Storage Solutions
Simple Loading & Transporting
Your Search For Affordable Storage Ends Here
We love to show off our portable storage capabilities, but that's only one of many versatile offerings at ALTA MOVING! From seasonal items storage, disposal bins and Frogbox rentals to moving supplies and more, we've got it all for our clients. We are the region's premier moving and storage company serving Edmonton and its surrounding areas, including St. Albert, Spruce Grove, Sherwood Park, and beyond!
Request a Quote
Get in touch today to learn more about our turnkey storage solutions and receive a discounted price in bundled storage and moving services.
Moving FAQ
How Long Before My Move Should I Hire Movers And Begin The Process?
altastorage
2021-01-28T11:54:38-06:00
ALTA MOVING accommodates moves booked and planned in advance as well as moves booked on shorter notice. It is ideal to book your move at least a week in advance so that you have the opportunity to take advantage of your 25 free Frogboxes that will be delivered sanitized and ready for your use a few days before your move. Even if you need to move on short notice, reach out to us. We are usually able to help, even for last-minute moves!